---
混

PINYIN

hùn


---

Main meanings:

①mix, confused.
②muddle.
③recklessly.

---

| | | |
| --- | --- | --- |
| HSK - 6 | STROKES - 11 | RADICAL -氵 |
---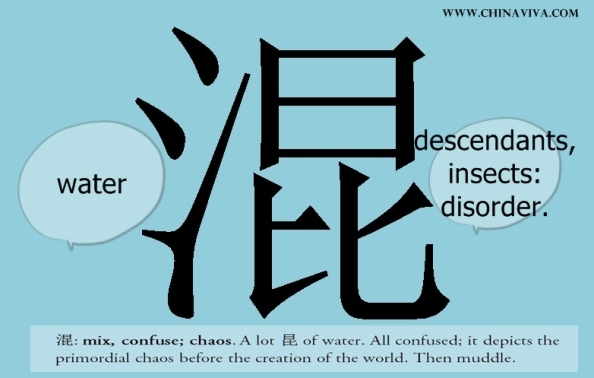 ---
Elements  ----  Water氵+ mix 昆. Phonetic series 昆.
A lot 昆 of water. All confused; it depicts the primordial chaos before the creation of the world. Then muddle.
---
Main Words:

混乱hùnluàn confusion; chaotic.
混合 hùnhé blend.
混沌 hùndùn primal chaos.
混淆 hùnxiáo obscure; confuse; mix up.
混浊 hùnzhuó muddy; dirty; turbid.
---
Harbaugh suggests it is a lot of water. Its present meanings are related with the primordial chaos, as mentioned in Gao (2013).
Gao Jingcheng (高景成). Diccionary of the origin of the most common characters. (常用字字源字典). Language Publishers. Beijing. 2013. GJC
Harbaugh, Rick. Chinese characters. A Genealogy and Dictionary. Zhongwen. Com. 1998.
---
Copyright © www.chinaviva.com 2015