Chinese Characters
---
旗

PINYIN

qí


---

Main meanings:

①flag, banner, standard.

---

| | | |
| --- | --- | --- |
| HSK - No | STROKES - 14 | RADICAL -方 |
---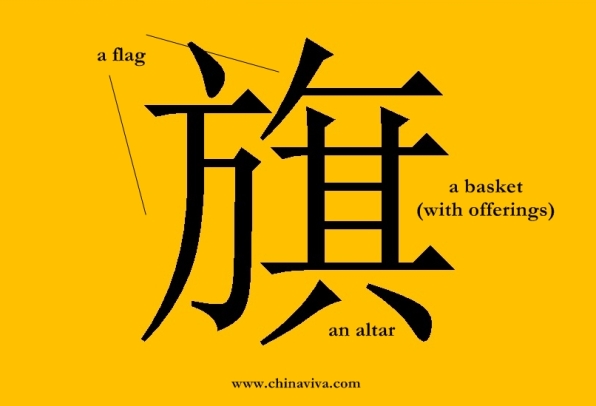 ---
Elements  ----  Flag  + basket其. Phonetic series其.

A banner marking the place where the ceremony in which presents carried in a basket 其 and placed on an altar takes place.
---
Main Words:

红旗 hóngqí red flag.
旗帜 qízhì banner; flag.
旗子 qízi flag; banner.
---
Though most of the scholars consider that in this character 其 has only a phonetic value. We think that, as banners have been used from remote times both in religious and military ceremonies in China, it is possible that the character were formed in relation with the flags and banners used in solemn ceremonies.
---
Copyright © www.chinaviva.com 2015