Chinese Characters
---
天

PINYIN

tiān


---

Main meanings:

①heaven, sky;

② day; season;

③weather; nature;

④God, Heaven

⑤natural.

---

| | | |
| --- | --- | --- |
| HSK - 1 | STROKES - 4 | RADICAL -大 |
---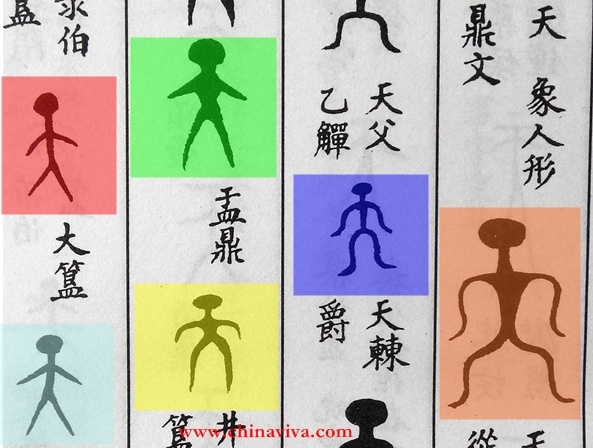 ---
Elements: person 大 + big head 一. Phonetic series:  天

A person 大 with the head emphasized (now a line 一). It was the god of Heaven, later heaven. While in the west God was represented as a big eye which sees everything, in China he was a big head that knows everything.
---
Main Words:

今天     jīntiān – today (this + day)
天气     tiānqì – weather (heaven + air)
天才     tiāncái  talent; gift; a genius; talented.
天赋     tiānfù   natural talent
---
Though most of the pictograms show a person with a big head, there are some with a line over a person, which suggest an interpretation as the sky is what lies above men. Schuessler (2007) things that the upper part was the old 丁ding, acting here as phonetic.
There is no consensus about what of the meanings, Heaven or the heavenly god is older.
The picture is a sample of some "heaven" pictograms in the Book of the Bronze Characters (金文编)

Schuessler, Axel. ABC Etymological Dictionary of Old Chinese. University of Hawai'i Press. 2007.
---
Copyright © www.chinaviva.com 2015